Webmerge
Simplify document creation and increase productivity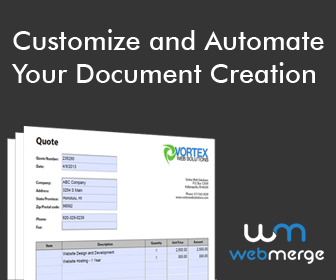 For many years, there has been talk about "Paperless" office solutions. However, very few organisations have been able to achieve this. With information coming from different sources it can be difficult to access the information you need to produce your documents.
Whether you are an environmentally friendly advocate or you're interested in simplifying your documentation administrative tasks, Webmerge allows a streamlined approach to document generation and delivery.
Webmerge is an online platform that allows you to easily collect data, populate a document and then save or send it to any contact automatically.  The platform provides you with the flexibility of common document types (such as PDF and Microsoft Office documents), dynamic content and delivery options that fit to your business needs.
Webmerge  can be used as a standalone product or integrated with other business products like Salesforce Sales Cloud, Sign Now, Eventbrite or even Facebook. To see all of the integrations that are possible, click on Webmerge link and choose integrations.
Features
Fillable PDF forms
Word Documents
Excel Spreadsheets
PowerPoint presentations
HTML Document Builders
Easy Data Routing – Create multiple documents from one data feed
Smart Logic – Set up conditions for your delivery options so that your merged documents are sent to the correct client
Dynamic Content – Create one customised document and use conditions to determine the sections to be included in your merged documents
Multiple User Access
Simple Data upload – For when you need to collect data manually
In – App Data Capture – Use to collect information to merge with a document or data route via an online form
Flexible Delivery Options
Security – You have full control over how your data is delivered. Webmerge does not save any information that is sent for merging. If your documents require higher security you can download directly from the website and not send via email.  There's also the ability to lock PDF's with a password.
Below are just a few case studies for the use of Webmerge
Salesforce
Issue a Statement of work direct from the Opportunity. Once the initial fields are selected for the template each new Statement of Work can be issued with a click of a button from the Opportunity
Real Estate
Send rental applications/leases at a touch of a button. Save time by not having to copy and paste and/or insert new information
Loans
Be able to issue Loan documents by drawing the information from your data bases
Human Resources
Take a new employee's details once and be able to send documents pertaining to Job acceptance, terms and conditions etc.
Send a new contractor agreement at the click of a button for each new job instead of manually typing out a new contract every time.
If you create templated documents and especially if you gather data for these documents from another online application or data store, then why not reduce your administrative effort?
Examples

Contract/Agreement
Application
Government Form
Event Ticket
Patient Registration
Customised Invoice
Report with Projections
Sales Pitch
Customer Letter
Proposal
Certificate
Donation Receipt
Purchase Order
Sales Quote
Inspection Report
Human Resource documents
Statement of work
Volunteer Letter
New Employee Contract
Primary cloud is an authorised Webmerge Consulting partner. Along with our experience in process automation, we've had extensive experience with document automation.
If you are after that professional look and delivery to your clients, Primary Cloud can deliver.
For further information on Webmerge or to sign up for a free trial, click on the Webmerge banner below.